Benesse Group Environmental Policy
Under the Benesse Group Environmental Policy, we ask our employees and Group companies to comply with environmental laws, regulations and rules in going about their business. At the same time, the policy is a guidepost to ongoing initiatives for improving the Group's environmental management system and performance.
Formulation of the Benesse Group Environmental Policy
In August 2011, Benesse Holdings formulated the "Benesse Group Environmental Policy," which reaffirms the importance of addressing environmental issues as a management priority.
Benesse Group Environmental Policy
Environmental issues are an important priority on a global scale. We believe that corporations have a duty to actively promote environmental activities. To fulfill its corporate philosophy of Benesse ="Well- Being," the Benesse Group has positioned the environment as a key management priority, and is promoting initiatives according to the characteristics of each of its business domains, centered on education and childcare, language/ global leadership training, and senior/nursing care.
We will adhere to all environmental laws and regulations when undertaking environmental activities. At the same time, we will have every person involved in our business proactively take part in environmental activities while working to continuously upgrade environmental management systems and environmental performance. Details of these activities are as follows:
Activity Guidelines
(1) Promote environmental consciousness in products and services, as well as sales and other activities

We will promote environmentally conscious design principles, including the non-use of hazardous substances, resource conservation and preservation of biodiversity and water resources, to ensure that we provide safe materials with a low environmental impact. We will apply these principles to not only products and services but also to marketing tools.

(2) Encourage energy conservation, waste reduction and recycling, and preservation of biodiversity and water resources

We will work to prevent environmental pollution in the course of business activities by encouraging energy conservation, waste reduction, recycling and preservation of biodiversity and water resources through the implementation of new technologies and other means.

(3) Engage society

We will collaborate with society and local communities in conducting environmental activities by promoting environmental education, community programs and other activities leveraging the characteristics of the Group's businesses. This Environmental Policy will be made known to all employees and other personnel involved in the Group's business activities, and will also be disclosed to the public.
August 1, 2011
Revised March 1, 2015
Benesse Holdings, Inc.
ISO 14001 Certification
Benesse Corporation acquired ISO 14001 certification in 2004, and renewed this certification in the year ended March 31, 2016.
Made CDP2018's climate change A List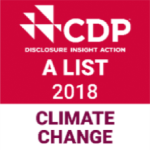 Benesse Holdings, Inc. was awarded the highest possible "A" rating in the CDP's climate change survey for its particularly outstanding action to reduce greenhouse gas emissions and mitigate climate change.
This is the first time that we have made the A List and follows on from "A-" scores in the 2016 and 2017 surveys.
The climate change A List is intended to recognize best practice and names the world's top businesses for action on climate change.
Last updated : 2019/05/20