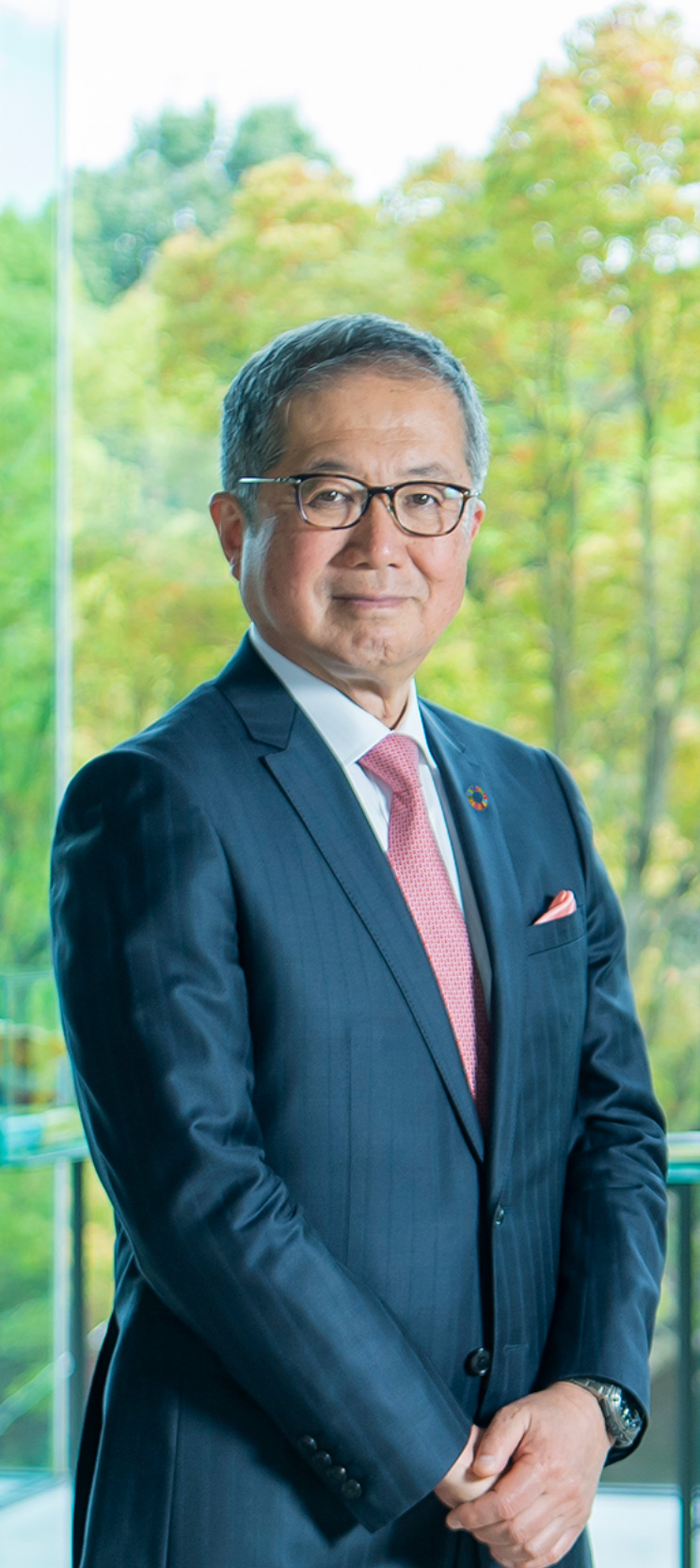 "Well-being" in society
and for the future.
The Benesse Group is a corporate group that, guided by its corporate philosophy of "Benesse = well-being," is committed to motivating people and helping them overcome challenges throughout their lives. Well-being, which we interpret as "to live well," is synonymous with the directions of the SDGs. Our goal is to contribute to people's wellbeing by educating individuals who can contribute to the 17 SDGs goals and expanding to the nursing care area - an area that will pose an issue not only to Japan but the whole world.
Benesse Group's response to the COVID-19 pandemic
The COVID-19 pandemic brought significant changes and impacts to numerous countries in the world. During the stage of emergency in which schools and kindergartens were temporarily closed, the Benesse Group swiftly provided children and their guardians with free online lessons and learning workbooks and opened its electronic library to the public. Furthermore, we have also worked entirely on protecting residents' health and creating a safe living environment in the nursing care business. The philosophy of the Benesse Group lies in each employee's thoughts toward our customers and social issues. Therefore, Benesse Group continues to take concrete measures against COVID-19 as we live by our corporate philosophy.
In the current situation in which our customers feel anxious, live life under several limitations, and are experiencing a rapid, irreversible change of society, we are strengthening our beliefs stated in the Benesse Group Sustainability Vision. That vision is: "We want to create a society in which every person can find what they want to do and meet challenges by refocusing on people as the center of various social issues."
The start of a new mid-term business plan
In 2021, Benesse Group started the reform of a new mid-term business plan that said, "To evolve in core areas and take on challenges in new dimensions." In the recent mid-term business plan, we acknowledge our much greater responsibility as a leading company in the field of education and nursing care business. We will focus on the social environment of 2030 and solve pressing social issues such as an aging society, low birth rates, and labor shortages.
Benesse Group will contribute to solving social issues by providing learning that can make each person grow and have a rich-in-experience life in the educational area. In addition, we are supporting the elderly to live the life they want in nursing care areas. Furthermore, in the long run, Benesse Group will utilize its strength and reach out to solve both the world's education and nursing care issues.
Engagement towards ESG
To realize the solutions for the education and nursing care issues that the mid-term business plan aims at, individuals with aspiration are essential. We are working proactively to bring a new way of working, such as a fulfilling work-life balance, improving productivity, or developing a learning culture so that employees can continue to grow.
The way to improve the values that Benesse Group provides to its customers has become a major topic due to the acceleration of DX (Digital Transformation). Therefore, the company is working on strengthening its DX technical knowledge and improving all employees' digital literacy. At the same time, we are working to ensure the comprehensive management of customer information and data and further strengthen information security.
Moreover, regarding environmental issues and climate change, we also declare our support for the declaration of the Task Force on Climate-Related Financial Disclosures (TCFD). We've been promoting education about the environment and digitizing our products and services to be more eco-friendly. In addition, we are advancing inclusion and diversity so that individuals can show their strengths while continuing to conduct human rights due diligence to realize an organizational culture that is highly sensitive to human rights.
Through our businesses and activities, Benesse Group is focusing more directly on solving global issues such as education and nursing care. We support every individual to have self-improvement motivation and to continue meeting new challenges as themselves.
And we are further expanding a well-being society and a well-being future.
Representative Director and Chairman and CEO of Benesse Holdings, Inc.
Chairman of the Sustainability・ESG Committee