Medium-Term Management Plan
Overview of New Mid-Term Management Plan
We have finalized our new 5-year Mid-Term Management Plan "Transform and Grow Benesse 2022" which will start from FY2018. The external environment is changing, including Japan's declining birthrate and ageing population, reform of the education and university entrance exam systems, and diversification of learning methods. With our slogan of "Transform and Grow", we plan to strengthen our management, and by developing existing businesses and expanding into new areas of business through M&A, we are pursuing the next growth phase.
New Mid-Term Management Plan –Transform and Grow Benesse 2022–

Performance Targets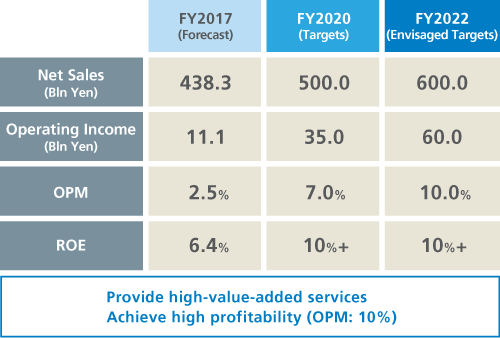 Strategy by business segment
The new Mid-Term Management Plan is divided into the following 4 businesses areas in line with our strategy themes.
Strategy by business segment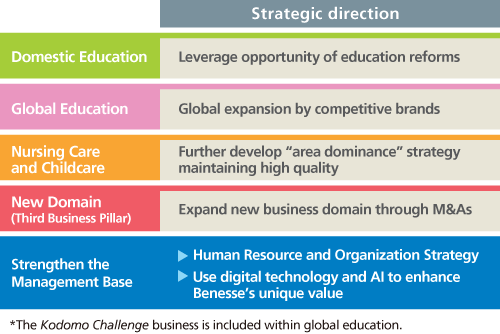 ①Domestic Education

Preparations are in progress for Japan's largest post-war reform of the education and entrance exam systems. The goal is to improve the qualifications and abilities of children living in the 21st century, enabling them to flourish in a society with an uncertain future. Amidst such changes, our School & Teacher Support business has been responding quickly to education and entrance exam reforms with our Shinken Simulated Exams and GTEC tests for assessing proficiency in 4 English language skills.
As we approach FY2022, we are creating a competitive advantage and expanding in the entire domestic education business, not only in the School & Teacher Support business but also in our Shinkenzemi correspondence course and cram school/prep school businesses.
We expect to benefit from education reforms and are aiming for Shinkenzemi enrollment of 3 million in April 2020.

②Global Education

It will be 30 years next spring since Kodomo Challenge correspondence courses were introduced in Japan. In China, where the courses were first offered 11 years ago, enrollment is 1.11 million, surpassing that of Japan. By strengthening our global product and marketing partnerships, we are entering into markets in Indonesia and other ASEAN countries, and we plan to develop Shimajiro World into a program loved by children and their families around the world.
At Berlitz, a new CEO with knowledge of the language education business and a wealth of turnaround experience was appointed in order to revitalize the business fundamentally. Under the new CEO's strong leadership, we will promote further reforms.

③Nursing Care and Childcare

The Nursing Care and Childcare business, which started over 20 years ago, achieved sales of over ¥100 billion in FY2016, and is growing steadily as the Benesse Group's second business pillar. We are aiming for stable growth through FY2022, and we plan to continue opening around 10 new nursing homes per year while at the same time improving the quality of service.

④New business (A third business pillar)

We are proactively pursuing M&A opportunities in order to build a business foundation that can adapt to major changes in the external environment. We will use M&A to carry out the Group's next growth phase through FY2022, by strengthening the competitiveness of existing businesses while creating a third business pillar along with education and nursing care.
Strengthening the Management Base
It is our employees who support our growth as we execute our strategies in each business. By creating an environment which enables our employees to pursue our corporate philosophy of "Benesse = Well-Being" and to have a sense of purpose, we are improving the competitiveness of the Benesse Group.
We are also actively promoting the use of digital technology and AI to enhance our unique value in the education and nursing care fields.
Dividend policy
We plan to maintain the current dividend level for the duration of the new Mid-Term Management Plan. However, this policy may be reviewed in the event of a large-scale M&A.
Last updated : 2018/03/30