Details of activities
The Sustainability Committee discusses the following.
Formulation of the group's Sustainability Vision
Identification of key social challenges for the group to tackle, and linkages with development of the vision and key activities that play to Benesse's unique strengths
Formulation and implementation of policies on internal group communication and communication with stakeholders concerning sustainability
Reporting of key matters concerning sustainability to the Benesse Group
Forums for discussion of specific topics with specially invited outside experts will also be arranged where necessary.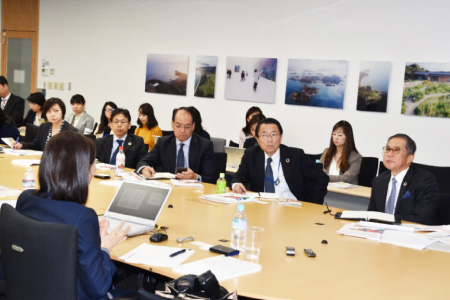 The Sustainability Committee hearing from outside experts in the SDGs in November 2018.
Activities to date
September 2018

Establishment of the Sustainability Committee and approval by Benesse Holdings' Board of Directors

Group employees informed by committee chairman Tamotsu Adachi

November 2018

Press release announcing establishment of the committee

First meeting of the Sustainability Committee

Part 1

Inputs by invited outside experts on theme of "SDG commitments required of companies in the future"

Part 2

First meeting to re-verify corporate philosophy and DNA, discuss 2030 social environment forecasts, and consider the Sustainability Vision

December 2018

Committee's establishment and its activities announced to group employees in C, the Benesse Group's in-house newsletter

January 2019

Second meeting of the Sustainability Committee

・ Second meeting to consider the Sustainability Vision
・ Re-verification of corporate philosophy in light of the Sustainability Vision
・ Discussion of materiality process

January 2019

Reporting of activities to outside directors and auditors

January 2019

Morning assembly on company anniversary

・ Action on sustainability announced to employees by committee chairman Tamotsu Adachi

March 2019

Third meeting of the Sustainability Committee

・ Employee feedback on sustainability activities reported
・ Finalization of Sustainability Vision
・ Sustainability activities in FY2019

Training sessions to raise understanding in the group of the SDGs

・ Approximately 20 individuals from group companies participated
・ Qualified employees acted as instructors to provide hands-on experience of the outlook embodied by the SDGs through SDG card game
Future activities
In FY2019, the Sustainability Committee will pursue further "communication with employees," "communication with stakeholders," "selection of materialities," "integration and rationalization of ESG management," and "promotion of understanding and stimulation of action on SDGs based on the Sustainability Vision.
Last updated : 2020/03/31