Introducing the Benesse Group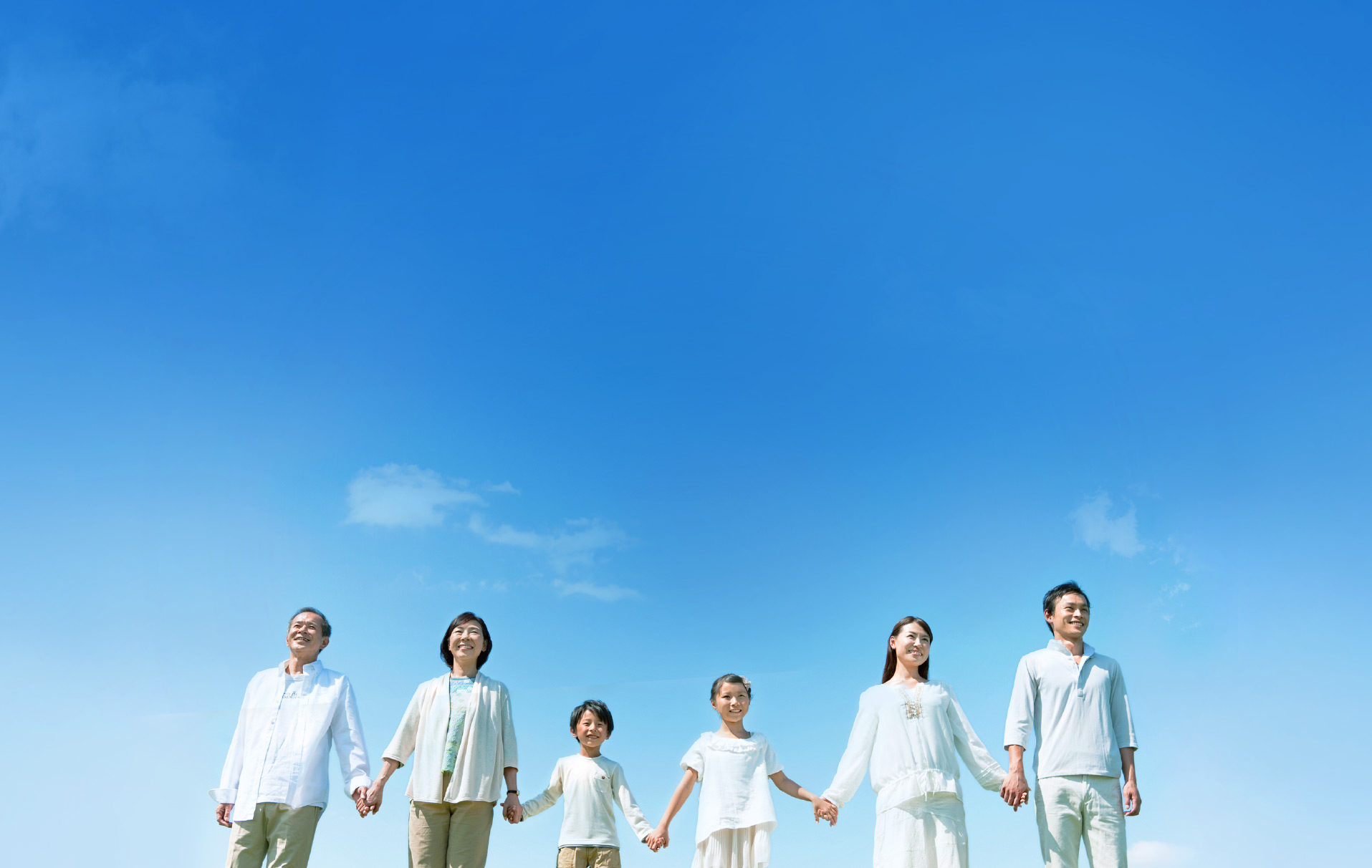 Our vision
All members of the Benesse Group are working to positively contribute to the well-being
of every customer by offering services that support them at every stage of their lives.

What is "Benesse"? The heart of Benesse is enjoying the process of moving forward step by step, with resolve, toward the realization of your dreams and aspirations.
Benesse empowers people to solve issues for themselves and to enjoy life to the full at every stage by offering them the tools and support they need to create well-being.
We aim to be a globally respected corporate group that is both supported by and indispensable to its customers, communities, and society in general.
Net sales by business segment
The Group is offering numerous services to countless communities through its five businesses, led by the Domestic Education business and Nursing Care and Childcare business.
Overview of each business
Domestic Education (Japan)

In the Domestic Education business—the Group's main business, accounting for more than 40% of consolidated sales—we aim further growth.

Shinkenzemi Business
School & Teacher Support Business
Area and Classroom Education Business

Global Kodomo Challenge

Keeping our focus on Kodomo Challenge, a correspondence course for preschoolers that draws on the expertise of Benesse, we are pushing ahead with expanding this competitive brand globally.

Domestic Kodomo Challenge Business (Japan)
Overseas Kodomo Challenge Business

Nursing Care and Childcare

The Nursing Care and Childcare business constitutes the number-two pillar of the Benesse Group.
We are focusing on improving quality and reinforcing our strategy of regional dominance.

Nursing Home and Home Help Services
Business
Food Delivery Services and Nursing Care Food Business
Daycare and Afterschool Care Business

Berlitz

The core of our operations is Berlitz, one of the largest language-education companies in the world. Under a new CEO, we are moving ahead with radical reforms.

Language Instruction Business
ELS (Overseas Study Support) Business

Other /

New Business Domains

We aim to conduct a variety of businesses that help make lives richer, and to establish new areas of business by means of M&As.

Business Related to Pregnancy, Childbirth, and Child-Rearing
Lifestyle-Related Business
Pet-Related Business
The Benesse Group's strengths
Our ties with people and society, our greatest strength
Since its founding, the Benesse Group has sought to realize well-being for everyone, together with its customers, the community, society, and our team. Over time, we have cultivated positive relationships with people and society. These ties are our greatest assets and the inspiration for us to create the new value that the future demands.
Shinkenzemi and Kodomo Challenge enrollment in Japan

2.72

million

as of April 2021

Red-pen teachers

about

9,000as of March 31, 2021

Senior high schools using our products

90

%

as of April 2019

Occupancy rate of our nursing homes

93

%

as of March 31, 2021

Enrollment in Kodomo Challenge outside Japan

1.21

million

as of April 2021

Average monthly circulation

696,000

copies

January–March, 2019

Berlitz's presence worldwide

about

70countries
& regionsas of December 31, 2020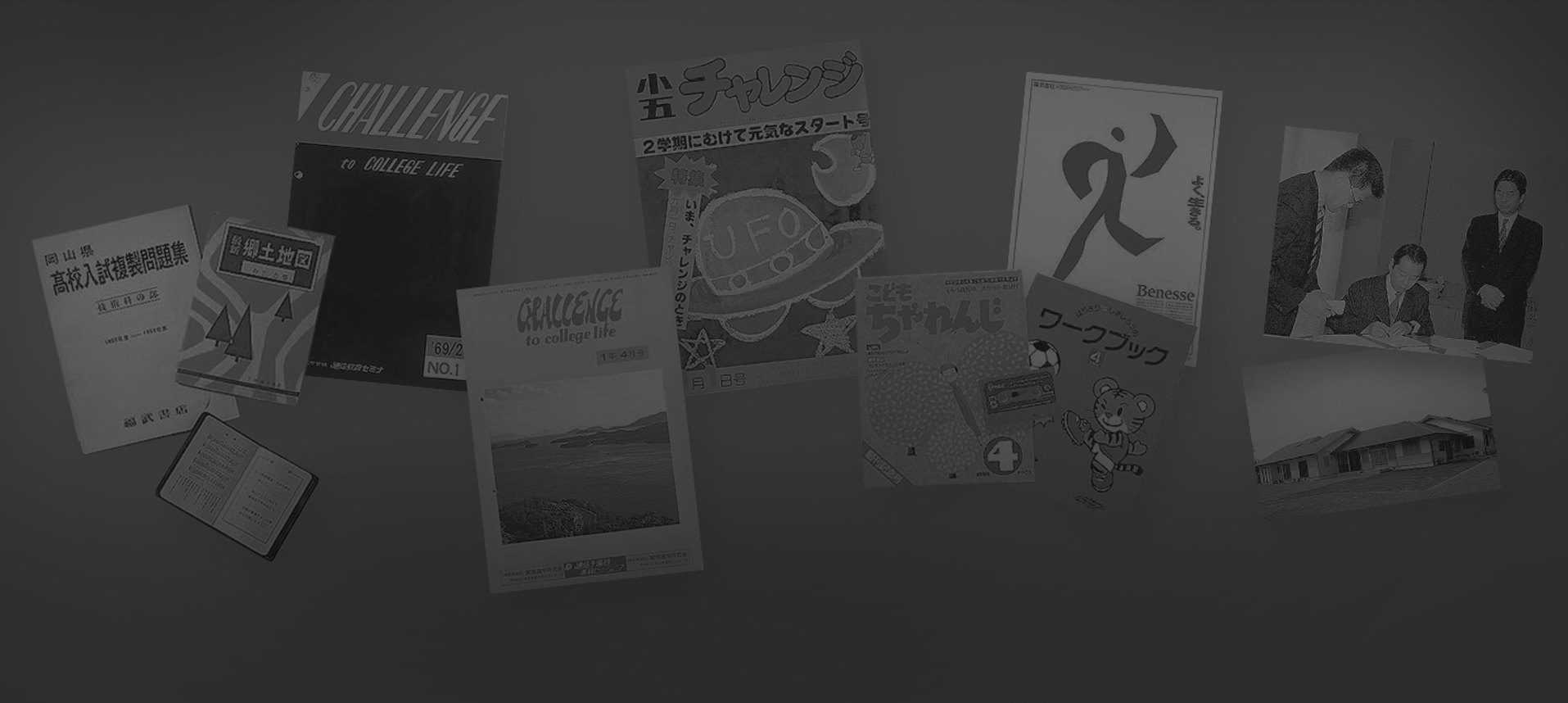 The Benesse Group's history
The Benesse Group has grown by broadening its service portfolio, including the launch of simulated exam and correspondence course businesses ahead of others in the industry.
Highlights from
each generation
Domestic Education (Japan)

Global Kodomo Challenge

Nursing Care and Childcare

Berlitz

Other/New Business
1950s & 1960s

The Early Years

Enters the simulated-exam business, expands nationwide

1955

Company founded in Okayama Prefecture as Fukutake Publishing Co., Ltd.

1962

Begins simulated exams for senior high school students

1969

Begins correspondence courses for senior high school students

1970s & 1980s

Shinkenzemi Expansion Phase

Expands Shinkenzemi correspondence courses

1972

For junior high school students

1980

For elementary school students

1988

For preschoolers

1989

For preschoolers in Taiwan

1990s

New Business Domains

Enters new fields of business

1990

Announces new Benesse corporate identity

1993

Enters the language-education business

Begins pregnancy, childbirth, and childcare magazines

1995

Changes name to Benesse Corporation

Listed on the Second Section of the Osaka Securities Exchange

Enters the nursing-care business

2000s

The Story Continues...

Next-generation educational materials and global expansion

2000

Listed on the First Section of the Tokyo Stock Exchange

2006

Begins courses for preschoolers in China

Enters the prep-school business

2009

Adopts a holding-company structure

Changes name to Benesse Holdings, Inc.

2014

Suffers a personal data breach

2020

Medium-term management plan,
FY2021–2025 Evolve core businesses & Expand into new fields
Market environment
Due to the aging of Japan's population, high-quality education and a full range of nursing care services are needed going forward.
In Japan, the proportion of elderly people in the population has been rapidly increasing while the proportion of children has been quickly shrinking due to a declining number of births each year. In 2020, the proportion of people age 65 and older was 28.7%, the highest level in the world. These trends are expected to continue in the future, with the proportion of people age 65 and older projected to reach around 30% of the population by 2025. Against that backdrop, the Japanese market can expect growing demand for high-quality education for future generations of children along with a full range of nursing care services for the elderly.
Source: Up to 2020, Vital Statistics, Ministry of Health, Labour and Welfare; from 2025 onward, National Institute of Population and Social Security Research "Population Projection for Japan (2017 estimate)"
Japan's education market
The annual number of births in Japan peaked at two million in 1975, and has been on a downward trend ever since. In 2020, the number of births had decreased by about less than half of the peak level, at 0.84 million. Going forward, the number of children is expected to continue to decrease, with the annual number of births projected to decline by around 1.0% per year on average.
Although Japan's birthrate has continued to decline, the supplementary education market was worth ¥1,477.2 billion in fiscal 2019 and remained mostly on a par with fiscal 2014. The supplementary education market includes cram and prep schools, correspondence courses, tutoring, study guides and workbooks and preschool education.
The correspondence course market (for preschool children/elementary to senior high school students) in fiscal 2019 was worth ¥132.3 billion. This figure accounted for 9.0% of the supplementary education market. Benesse has a large share of the correspondence course market, at 85% in fiscal 2019. The size of the cram and prep schools market in fiscal 2019 was ¥972.0 billion, accounting for 65.8% of the supplementary education market as a whole.
Japan's nursing care market
With the ongoing aging of the population, the number of people who require nursing care has also continued to increase. To resolve the issue of nursing care for elderly, the nursing care insurance system under the social insurance system was enacted in 2000. Since then, the domestic nursing care market*1 has expanded rapidly, with the total cost of nursing care in fiscal 2018 at ¥9.6 trillion, a 1.0% increase over the previous fiscal year. As of April 2020, the number of people receiving nursing care insurance services in Japan was 5.64 million, a 0.7 percentage point increase from a year earlier.
In 2020, Japan's total population continued to age rapidly, with the number of people aged 65 or older topping 28.7% of the total population*2, an increase of 0.3 of a percentage point compared to the previous year. This trend is projected to continue into the future. By 2025, the number of people aged 65 or older is expected to represent over 30% of the population.
*1 Source: Ministry of Health, Labour and Welfare "Status Report on the Long-term Care Insurance Projects"
*2 Source: Ministry of Internal Affairs and Communications Statistics Bureau "Current Population Estimates (as of September 15, 2020)"
Now & the future
The Benesse Group will aim for continuous growth by
executing its medium-term management plan.