Communication with Stakeholders
The basis of CSR at the Benesse Group is activities that create social value, which begin from our corporate philosophy: Benesse = "Well-Being"
CSR Approach
Resolving social issues through our businesses, and working mainly through our three foundations to "support the learning of children" and "support the development of sound communities with a focus on education, culture and the arts"
The Benesse Group's CSR activities originate with its corporate philosophy: Benesse = "Well-Being," and aim to create new value for society. We provide resolutions to social issues through businesses that are supported by many stakeholders, while our three related foundations lead our efforts to "support the learning of children, who are the leaders of tomorrow" and "to support the development of sound communities with a focus on education, culture and the arts." We believe this CSR focus reflects the unique spirit of Benesse.
Throughout the entire Benesse Group, we aim to provide better value to society through our businesses, while aiming to channel the Group's sustainable growth into social value creation through our foundations.
We will strive to be a corporate group that performs essential functions for its stakeholders, setting our sights on helping every individual to "Well-Being" from birth into old age.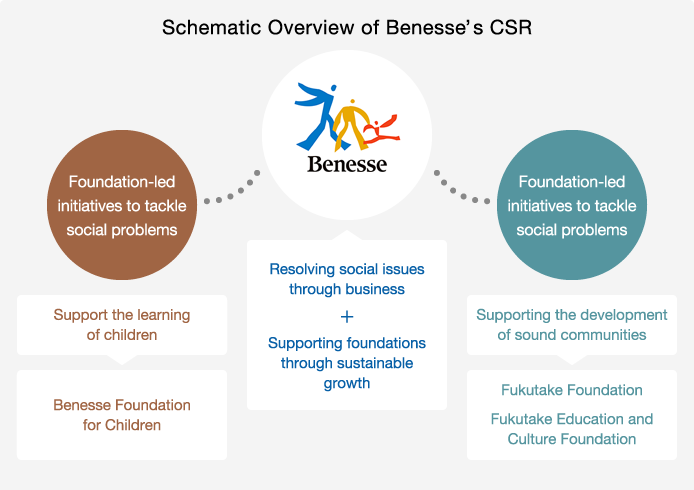 Benesse CSR Promotion Structure
Benesse Group CSR Achievement Targets
Education and

Childcare

Make the future brighter by providing educational support to children, who are our future, and to households, as one of the world's most trusted educational groups.
Provide educational services and opportunities for over 100 million people from children through adults in countries and regions throughout the world, seeking to develop open-minded individuals with the ability to think and act independently.

Senior /

Nursing Care

Perform vital functions for local communities amid the aging of society by providing personalized residential and lifestyle support that enables people to lead their lives in the way that they wish.

Human resources

Develop human resources that have an extensive interest in worldwide issues and a desire to improve society as a member of global society, and an abundance of autonomy and willingness to take on new challenges connected to business.
Support employees who aspire to resolve social issues.

Environment

Recognize global warming as an important issue and reduce our business activities' environmental footprint.
Use environmental education to support the development of human resources who are able to look at the bigger picture and take action to help to solve environmental issues.

Community /

Social contributions

As a member of the community and society, work to realize the concept of "Well-Being" on a local level by helping to create sound communities where people live happily with the aim of harmonious coexistence.
Benesse Group Corporate Philosophy and Principle
In October 2010, Benesse Holdings adopted a set of guidelines called the "Benesse Group Corporate Philosophy and Principle" informed by its corporate vision to guide the conduct of directors and employees in the group. The group's operating companies follow these guidelines in order to comply with social norms, high ethical standards, and relevant laws and regulations, and they develop management systems to ensure that they achieve lasting growth and development by continuing to deliver value for society.
Stakeholder engagement
Stakeholder

Engagement initiatives
Customers

Continuous creation of necessary services through appropriate communication with customers:

- Customer questionnaires
- Face-to-face communication at branches

Employees

Development of fair and vibrant workplaces through communication with employees:

- Communication with employee representatives
- Monitoring of conditions through internal questionnaires

Suppliers and partners

Treatment of partners as important co-creators of value and maintenance of good trust-based relationships:

- Regular audits in Japan and overseas

Communities and society

Contribution to community development through local job creation as a result of business activities combined with non-commercial activities of affiliated foundations and support for sport:

- Development of cheerful communities accessible to older people by the Fukutake Foundation
- Contribution to communities, education, and children by the Fukutake Education and Culture Foundation and Benesse Foundation for Children
- Support for grassroots sports in the community (including sailing and soccer teams)

Shareholder and investors

Disclosure through appropriate media and opportunities to maintain lasting trust with shareholders and investors:

- Annual shareholders' meetings
- Publication of quarterly shareholder newsletters and integrated annual reports
- Meetings with institutional investors (as necessary)
Reporting
We publish CSR reports to make the group's environmental and social impacts transparent and explain the group's CSR activities to stakeholders.
Entities covered
Reports cover the Benesse Group, including Benesse Holdings and consolidated group companies in Japan and overseas. As coverage can vary according to the kind of data published, specific details are provided as appropriate in each report.
Period covered
The latest report focuses on activities in FY2017 (April 1, 2017 – March 31, 2018). However, it also includes some information on activities prior to and after this period.
Date of publication of integrated report
August 2018 (previous issue: August 2013, next issue (planned): August 2019)
Guidelines referenced
GRI (Global Reporting Initiative) GRI Standards
Last updated : 2019/04/26