Fusing people and digital technology as only Benesse can
The Benesse Group provides cloud services that support the use of ICT in elementary, junior high, and senior high schools nationwide from a variety of approaches. We leverage the strengths of our educational platform, providing dedicated learning tablet computers to more elementary and junior high school students than any other company, and our tutelage abilities, cultivated over many years, to develop and provide products and services that only our Group can.
Combining the strengths we have cultivated with digital technology to take our services to the next level
Benesse aims to accelerate the digitization of education, thereby meeting the need for personalized services tailored to individual students' educational abilities and motivation, together with diverse educational needs. The number of companies entering the market from other industries is rising. Our sources of competitive superiority are the three strengths of our tutelage abilities, our educational knowledge, and our customer base, which we have developed through our educational services. Our tutelage abilities include our roughly 9,000 "Red-pen teachers" and instructors from Group preparatory schools. Our educational knowledge includes the expertise and content we have developed through our over five decades of instruction experience and the results of studies and research by the Benesse Educational Research and Development Institute (BERD). Our customer base is an asset made up of the enrollment history of Shinkenzemi, assessment data from Shinken Simulated Exams, and our contact points with schools nationwide. By combining these strengths with digital technologies, we can further enhance our competitive superiority and achieve our educational ideals.
The history of technology use by Shinkenzemi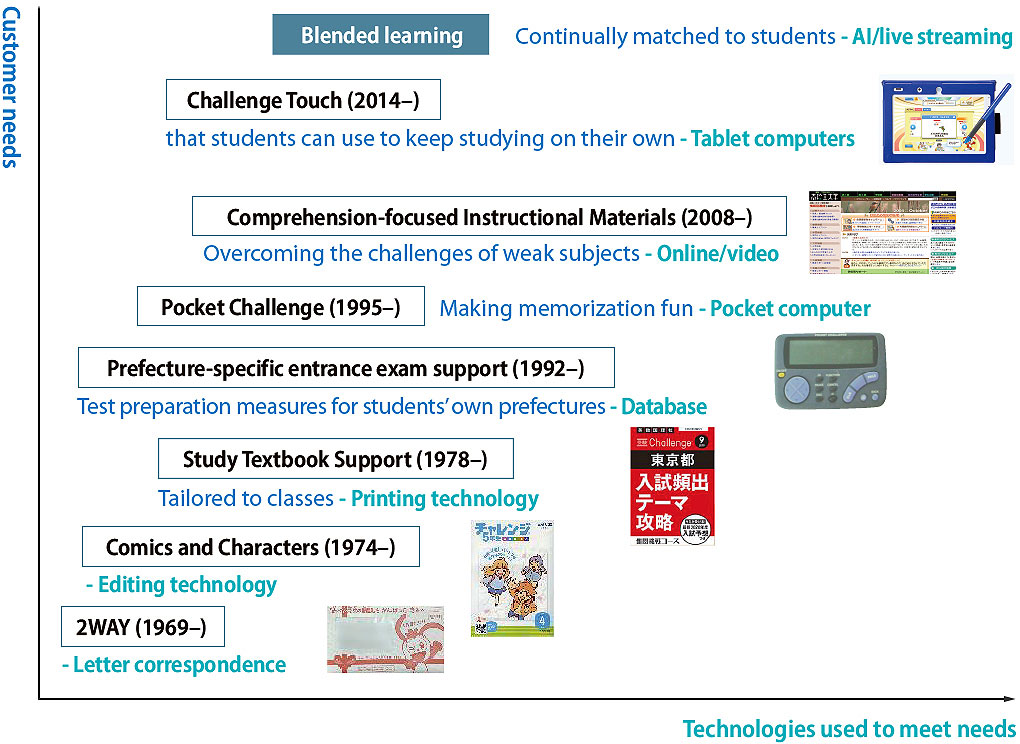 The strengths of Benesse's educational business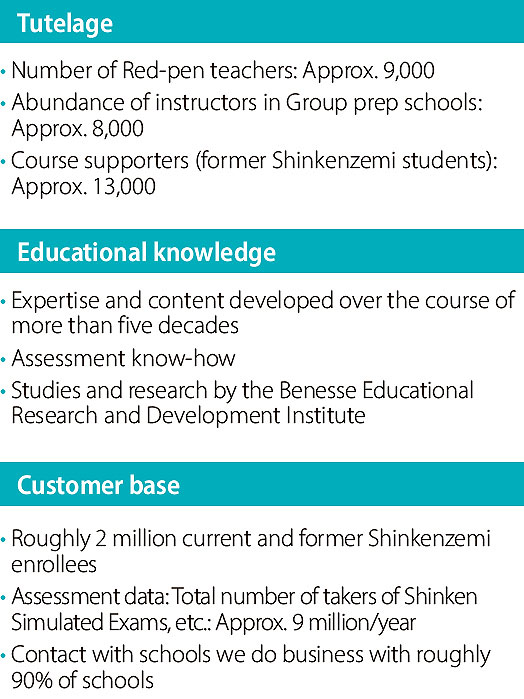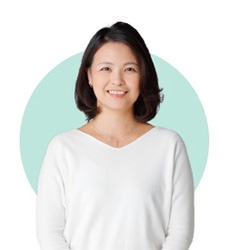 Shinkenzemi
Combining "instruction that motivates students" and "personally tailored digital learning" to improve customer satisfaction
Of the roughly 400,000 students currently enrolled in our Shinkenzemi Junior High School Courses, about 70% are using our hybrid style, combining dedicated tablet computers and textbooks. The growth of tablet computer-based learning has made it possible for us to speedily provide students with education proposals that are personally tailored to meet, for example, students' academic levels and frequency of school club activities. In April 2021, we introduced proficiency scores, which use learning data to predict test scores and generate study plans for reaching and surpassing target scores. In August, we applied AI to historical data regarding past initiatives to identify which lessons increase proficiency scores the most and offered those lessons during the summer break. Furthermore, our weekly bidirectional online live classes are improving students' motivation, creating a weekly study rhythm, and enabling teachers to explain questions that are hard for students to understand on their own and to answer individual students' questions. By creating a study cycle that fuses digital technology with human instruction, we aim to improve instructional material utilization rates and ongoing use.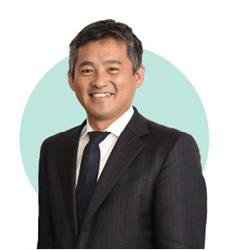 School and Teacher Support
Developing independent, interactive, deep study among the students that will shape the future
Thanks to the GIGA School Project, almost every elementary and junior high school student has been assigned their own digital device, and digital study in schools is shifting from the device ubiquity to the device usage phase. Our tablet learning software, Mirai Seed, is notable not only for the drills it provides and its ability to enable opinion-sharing in class, but also for supporting the entire process from data collection to effectiveness verification. We hope that the tablets help students organize and share their ideas, stimulating group work and class-wide discussions and expanding the use of active learning classes.
In the future, we plan to use Mirai Seed to further collaborate with local municipal governments with the aims of helping schools and governments realize their educational ideals and enabling all students to actively and independently engage in learning, anywhere, at any time.
Mirai Seed all-in-one software for tablet education