Ensuring that learning goes on
despite the COVID-19 pandemic
The spread of COVID-19 had a tremendous impact on children's education in fiscal 2020. The Benesse Group is implementing a wide range of initiatives to support children's growth and learning.
How Benesse can help in the midst of the pandemic
The COVID-19 pandemic has caused confusion and disarray throughout society, resulting in temporary daycare center and school closures and forcing changes to school curricula. The Benesse Group has been quick to respond by implementing support activities to ensure that children's educations are not interrupted. These activities have been carried out through Shinkenzemi, Kodomo Challenge, preparatory schools, English classrooms, and other businesses in the Benesse Group. We have also developed a variety of instructional materials, content, and services, some of which are provided free of charge to the general public, not just enrollees. At the heart of these activities has been the firm desire among each and every employee to alleviate the concerns of children and family members and to help solve the problems they face. Even before the COVID-19 pandemic, the Benesse Corporation has responded to the dramatically changing environment by examining its own purpose and principles (judgment standards and behavior standards), putting them into words. We have been able to speedily take on the challenges presented by COVID-19 due to our thorough application of our purpose and principles. We will continue to give our full attention to our customers, providing value as only Benesse can.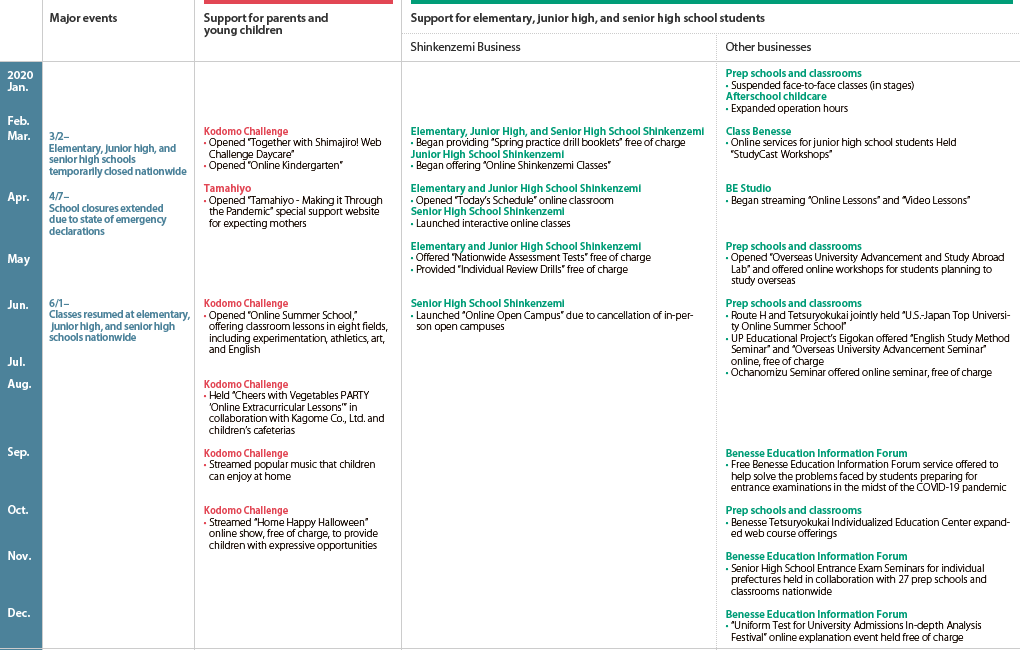 Shinkenzemi
Providing free instructional materials and programs that meet changing needs
In response to rising concerns about disparities in educational abilities as the result of schools nationwide being shut down for a long period of time, Shinkenzemi carried out a variety of activities. These included offering "Nationwide Assessment Tests" that could be taken at home, providing "Individual Review Drills" linked to the results of the assessment tests, providing "Spring practice drill booklets" for elementary, junior high, and senior high school students that covered three semesters of material, and offering "Today's Schedule" online classrooms, which enabled participants to maintain their life and study rhythms during the long school closure period. All of these were provided to students free of charge. Questionnaires were administered on a daily basis, and instructional materials and programs were provided that addressed the concerns felt by users and their families.
The decision to offer the "Spring practice drill booklets" free of charge was made on the day that the school closures were announced, and we received 100,000 applications on the first day that registration was open. The schedule was a grueling one, with instructional materials being prepared while reservations were in progress, but Shinkenzemi employees and partner companies worked together as one and succeeded in delivering the materials in just one week. We will continue to place great value on our ability to immediately address changing needs while thoroughly maintaining our unique Shinkenzemi focus on the student experience.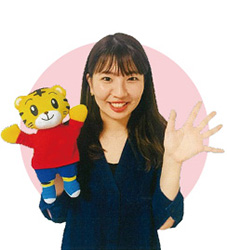 Kodomo Challenge
Online Kindergarten provides support to children and parents while daycares are closed
Numerous kindergartens and daycare centers across Japan closed in order to prevent the spread of COVID-19, so children spent a greater amount of time at home. Benesse responded to this by opening its Online Kindergarten in March 2020.
The Online Kindergarten distributed educational and video content, including "brushing teeth," "washing hands," "singing," "dancing," and "intellectual training," matched to a daily schedule made with the supervision of experts. It was designed to enable children to have fun and learn, just like they would in kindergarten or daycare, from within their own homes. Furthermore, it also provided exercise content to help refresh parents working at home. Over a two month period, the content was viewed by over 600,000 people, and we received wonderful feedback, such as "Thanks to the Online Kindergarten, I was able to accomplish a lot while working from home" and "The program helped my children maintain their daily rhythm while the kindergarten was closed." The situations surrounding parents and children is likely to continue to change, and we plan to meet these changes by providing instructional materials that offer new value.