Benesse Correspondence Course Scholarship Program
This program was established to provide free educational materials to orphans aged 0 through senior high school (up to age 19). The program was launched after the Great East Japan Earthquake, in the hope of providing long-term learning opportunities for children who have lost both parents and find themselves in very changed circumstances. It provides Benesse's correspondence course services not only to orphans of the Great East Japan Earthquake, but to children throughout Japan who have lost their parents in accidents, earthquakes, and other disasters.
Shinkenzemi Elementary School Courses Developmental Disability Support Website
Benesse Corporation launched a website to support the learning of children with learning disabilities. The website offers information on how to use educational materials, reports on veteran guardians' experiences, interviews with doctors and other experts, and more.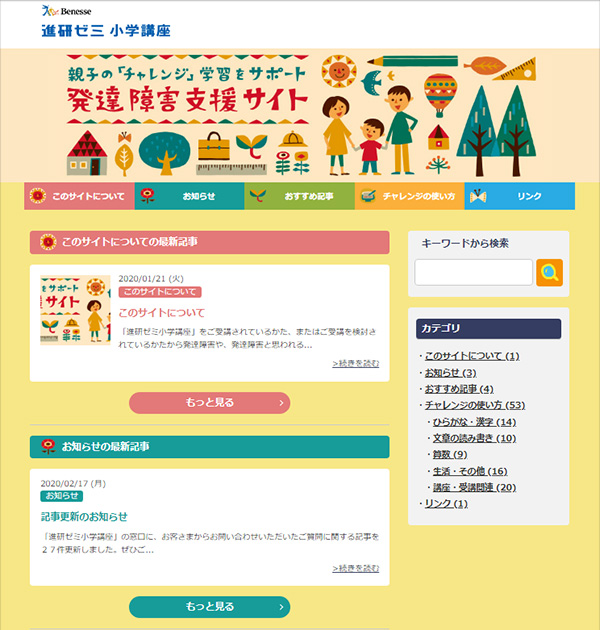 Braille support for Shinken Simulated Exams
In 1991, Benesse Corporation started offering Braille versions of the Shinken Simulated Exams and other materials in its Assessment for Schools business. We have been expanding the range of materials ever since. We supply Braille versions of our exam questions to all schools that request them for their students, whether they are schools for blind students or ordinary schools, and give students the opportunity to take the exam. (We offer the Braille versions with the cooperation of the National Association of Upper Secondary School Principals Entrance Examination Braille Translation Division ).
We also cater to students with visual impairments by providing enlarged copies of exam questions, working in cooperation with Benesse Base-Com, Inc.
Berlitz Education Foundation for Children (Support for developing an educational environment in emerging countries
In 2006, Berlitz Germany established The Berlitz Educational Foundation for Children. The foundation provides educational opportunities for children who live in areas lacking teachers and schools.In cooperation with Plan International, an international development organization, the company supports construction of new schools to serve children in Kenya. In addition to providing desks, chairs and other materials, the company conducts a two-year training program for teachers to help improve the quality of education. In Zambia, the company is helping a school for girls by providing books and building classrooms.