Medium-Term Management Plan
* The contents are as of December 2020.
FY2021–2025Evolve core businesses
& Expand into new fields
The Benesse Group has formulated a five-year medium-term management plan to "Evolve core businesses and Expand into New Fields" to guide us forward through the drastically changing business environment. The Group is seeking to reestablish its earnings from the deterioration of business performance caused by the personal data leak in 2014 and to fortify its corporate structure and for continuing earnings growth. At the same time, it is confronting the significant impact that the COVID-19 pandemic is having on its business environment. In these conditions, the Group aims to establish sustaining growth by continuing to develop and improve the core education and nursing care businesses and seeking to extend its business domains in to new fields.
Company Image for 2030
By leading efforts to solve educational and nursing care issues in Japan and the rest of the world, Benesse supports all people in their continued efforts to improve themselves and have a way of life that suits them.
Societal Conditions in 2030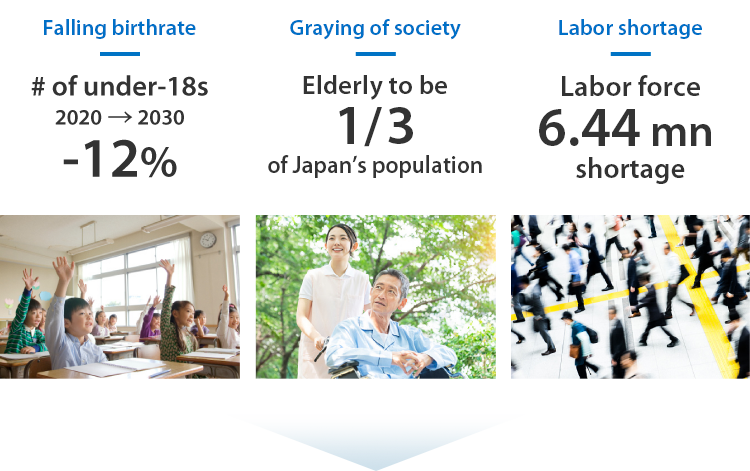 Medium-Term Management Plan Roadmap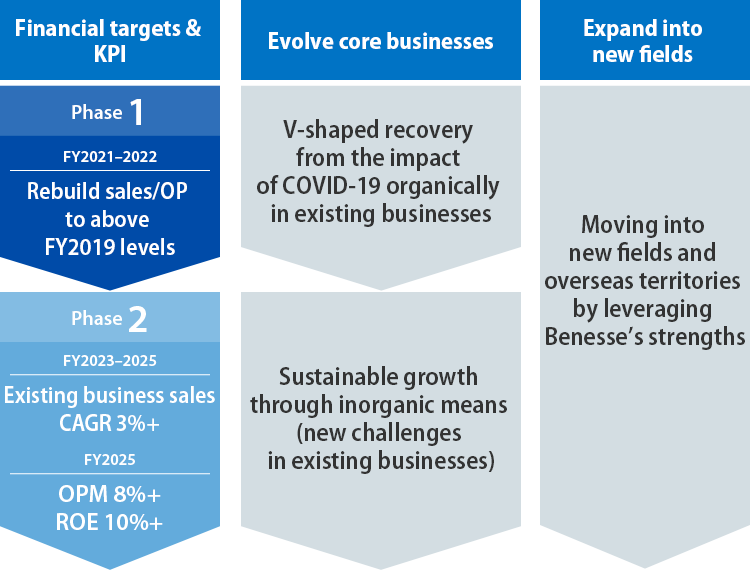 Fulfilling the Medium-Term Management Plan
Education Business in Japan
Although educational opportunities and learning methods had been considered tried and true, the education system had to change dramatically in 2020 when the government issued the state of emergency and closed all of the schools to prevent the spread of COVID-19.
The Benesse Group has long been developing learning methods that are highly effective and geared to individual students, with our Shinkenzemi courses being the prime example. However, we are responding to the dramatic change in circumstances by accelerating efforts to further digitalize our education support services and quickly introduce blended learning combining digital online, and classroom learning. In the medium to long term, we will use the roughly 500,000 dedicated Shinkenzemi tablets issued each year as a platform for adding a diverse range of educational and career learning needs.
We are also examining plans to expand our online cram schools nationwide to extend our service reach to areas without Benesse cram schools. In the School & Teacher Support business, we will reinforce the core Shinken Simulated Exams and other practice exam businesses while also developing the next generation of the School & Teacher Support business in line with the Japanese government's Global Innovation Gateway for All (GIGA) School project.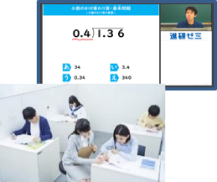 Shinkenzemi
Swiftly establish blended learning
Offer individual learning through digital sources (Optimize instruction via for digital/online/instructors)
Support diverse learning needs (such as tablet-based learning)
Cram Schools
Develop net-based nationwide cram school network
School & Teacher Support
Strengthen the practice exam business
Create the next-generation school support business geared to the GIGA School project
Global Kodomo Challenge Business
The Group has over two million members worldwide and more than 30 years of expertise in the early childhood education business. Nevertheless, our business capabilities are being stressed by the drastic changes in the education environment, including the declining birthrate in Japan, intensifying competition as digital technologies become prevalent, and the rapid increase in education demand in China.
In this environment, the Global Kodomo Challenge Business will broaden its business and service target range by expanding the Shimajiro World from children to also encompass support for parents and families. With the competition for digital content increasing during the COVID-19 pandemic, and we will also create new value in Japan for early childhood education by introducing applications and online courses, and in China by integrating digital transformation into our sales structure and developing lessons incorporating AI recognition.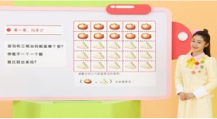 Expand Shimajiro World to support families
Strengthen products/services and grow contact points via digital
Nursing Care and Childcare Business
Demand for nursing care is expected to continue growing as the population ages; however, securing and training the people needed to provide the nursing care is becoming a critical issue.
The Benesse Group seeks to provide home management services from the perspective of residents with the philosophy of "Deep respect for people's individuality." The Group is conducting a hiring strategy coordinated with its activities to expand into new development areas and open new nursing homes. The business is seeking not just to increase the number of homes it builds, it is seeking to "create distinctive new homes" by taking to another level the scientific Benesse Method developed by more than two decades of practical knowledge and by developing a Benesse-version of sensing homes.
We will also maintain the high-quality services we provide to the inhabitants of our homes by continuing to secure and train nursing staff with specialized knowledge and expertise in areas such as dementia and care techniques. Further strengthening our business foundation in this way will enable us to fulfill our philosophy of "Deep respect for people's individuality." In the medium term, we will also expand the HR recruitment and other peripheral businesses with the aim of generating non-contiguous growth.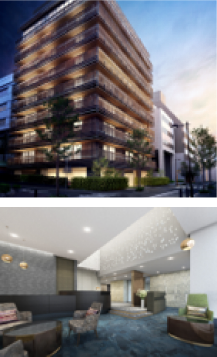 Increase # of new homes by moving into new areas
Non-contiguous growth in peripheral businesses, such as HR recruitment
Berlitz Business
With over 140 years of history and a well-established Berlitz Method to support language learning, Berlitz is streamlining and franchising its classroom network as it pushes ahead with the creation of Berlitz 2.0 with online and digital products and marketing. Berlitz is operating in over 70 countries around the world and has inevitably been impacted by the COVID-19 pandemic, but the business is aiming for the Berlitz 2.0 activities to raise it back in to the black in fiscal 2022.
Berlitz 2.0 and strengthened digital marketing
Further structural reform
Expand into New Fields
The Medium-Term Management Plan calls for actively developing new businesses in markets where growth is expected and where the Group can utilize its strengths. The first forays will be to use the strong foundation of our domestic nursing care business to launch the business overseas and to expand our businesses and services supporting lifelong learning and diverse work styles in the university and working adult domains.
Use strengths cultivated in Japan to develop businesses overseas (nursing care business in China, education business worldwide)
Support lifelong learning and diverse work styles in the university and working adult domains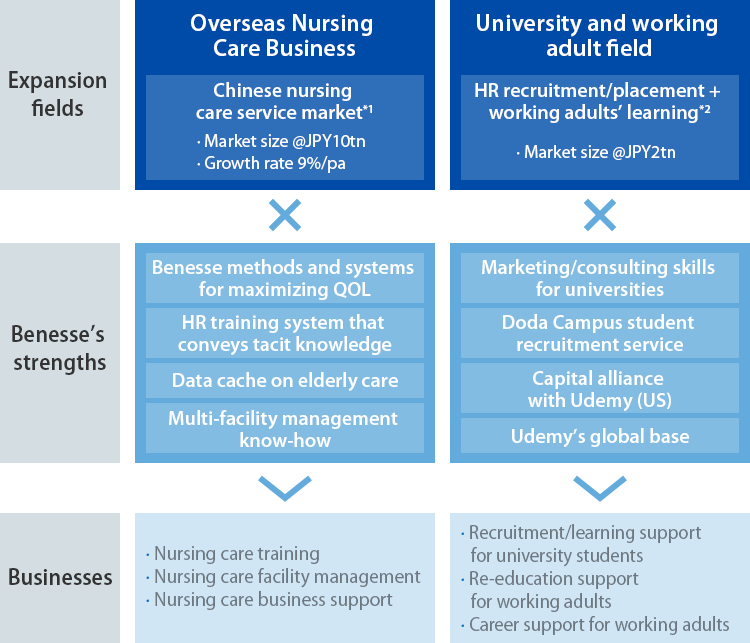 *1 Facilities and visitation services for those requiring long-term care; market size as of 2020; growth rate 2020 → 2030
*2 Market size as of 2020
Management Foundation for
the Medium-Term Management Plan
Building a structure to advance digital transformation will be a vital management foundation for achieving the medium-term management plan. The Group's digital education services and digital teaching materials are already being used by many students, schools, and companies. We plan to systematically bring together the digital human resources inside and outside Benesse that created these services and materials into a structure that will continue driving business growth.
Digital Education Services
Dedicated Learning Tablets

Education Platform for School ICT

*As of Oct. 2020

School Administration Support

*As of Oct. 2020

Online
Learning Sites

*As of Sep. 2020
Systems to Promote DX

Capital Strategies
Benesse invests in growth based on Group portfolio and financial strategies while maintaining a dividend payout ratio of at least 35%.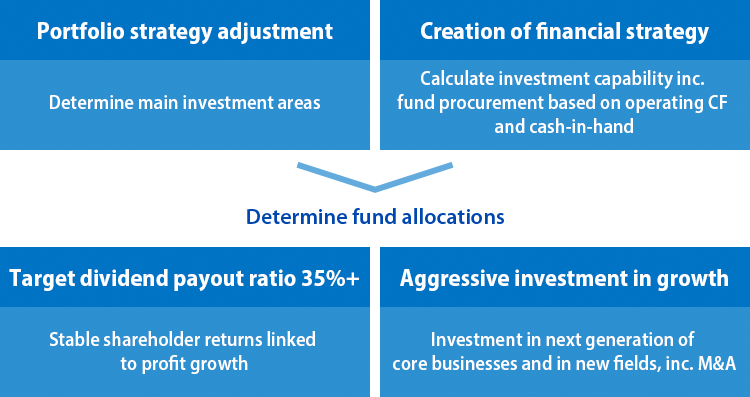 Benesse Group's approach to SDGs Contributions
The Group will contribute to fulfilling the SDGs through its core education and nursing care businesses.