We will further enhance the effectiveness of the Board of Directors and support the growth of the Group
Katsumi IharaOutside Director
Chairman of the Board of Directors
プロフィール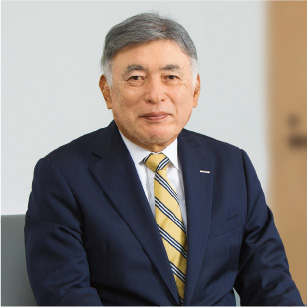 Profile
In 1973 joined Mitsui Knowledge Industry Co., Ltd. After joining Sony Corporation in 1981 he has served as Group Chief Strategy Officer (CSO), Chief Financial Officer (CFO), and Executive Deputy President, then as Representative Director and President of Sony Financial Holdings Inc., and later also as Director and Chairman of the same company. Starting in 2018 he has been an outside director at Hitachi, Ltd., and in 2019, he became a Director of the Company.
Leveraging the Board of Directors' diverse experience and knowledge to ensure we fulfill the Medium-Term Management Plan
During my career at the Sony Group, I supervised various business operations and gained extensive experience working with overseas joint venture firms as well as with M&A and post-merger integration. I also served as the president and chairman of a listed company. Myself and all of the outside directors at Benesse bring an extremely wide range of experience. The role of the outside directors is to provide advice to executives from various perspectives that are not framed by the organization's internal logic. Our input helps ensure the business plans and medium-term management plans are fulfilled and speeds up the progress toward attaining the Company's objectives. As Chairman of the Board of Directors, I believe it is my duty to bring out each Board member's full experience and knowledge.
Prior to each Board meeting, Benesse's directors participate in a Preliminary Briefing Session to understand the background of the items to be discussed and join in an Executive Study Group to discuss important business themes. Through these meetings and other activities, the directors are able to engage in fully informed business discussions. Although the pandemic conditions by necessity led to the Board meetings being conducted remotely and prevented us from directly visiting business sites in fiscal 2020, we were still able to effectively address important topics, including formulating the medium-term management plan and revising the management structure.
The Board members also convened three times for intensive in-person discussions about the medium-term management plan. In fiscal 2021, we will be monitoring the plan's progress and plan to discuss any issues that come up during the discussion process, such as optimizing the business portfolio, measures to improve capital efficiency, and branding.
Clarifying issues and further improving Board effectiveness
The fiscal 2020 survey on the Board of Directors effectiveness showed a high evaluation overall, but some areas had mixed results. We engaged a special external agency to discuss various issues with each of the directors, and the Board members then held several in-depth meetings to deliberate the agency's findings.
Issues identified in the effectiveness evaluations included the need to discuss representative director evaluations, remuneration, and the development of successors as well as ESG and sustainability initiatives, diversity and inclusion, and the thoroughness of dialogue with shareholders and feedback to management. We also understood that we need to create more opportunities for Board members to communicate with one another. These items will be priority topics for the Board of Directors and the Nomination and Compensation Committee.
Cultivating next-generation management human resources and visualizing the HR pipeline
Fiscal 2021 is the first year of the Benesse Group medium-term management plan. To ensure the most effective management structure to enable quick responses to changes in the business environment and to generate a V-shaped earnings recovery, we decided to give President Kobayashi broader authority, based on his direct leadership at our business sites, and to have Chairman Adachi focus on leading the Group's medium- and long-term strategies.
As chairman of the Nomination and Compensation Committee, in fiscal 2021, I intend to examine succession plans to develop the next generation of managers. I will also be focusing on creating a visualization scheme for the human resources pipeline for top management.
Benesse has a wonderful corporate culture that strongly adheres to its corporate philosophy. I will work to continue improving the effectiveness of the Board of Directors and the Nomination and Compensation Committee so this culture will continue to flourish as the Company grows and expands into new business realms.
---
Forming a strong business foundation for contributing to a sustainable society
Mutsuo IwaiOutside Director
プロフィール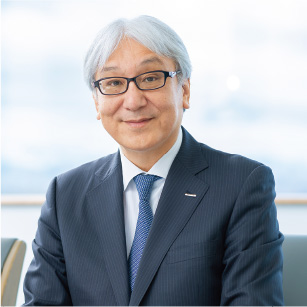 Profile
Joined the Japan Tobacco and Salt Public Corporation in 1983. Served as Director and Managing Executive Officer at Japan Tobacco Inc., Executive Vice-President at JT International S.A., and Representative Director and Executive Vice-President at Japan Tobacco Inc. In 2020, he took up the post of Deputy Chairman of the Board at Japan Tobacco Inc. and Director at the Company.
The Board functions effectively as a place for democratic dialogue
The dialogue that we have between management and human resources is one of aspects that I particularly cherish. A core chain of command is essential for an organization, but dialogue that is solely top-down limits the company to the abilities of the top management. I firmly believe that democratic dialogue is what creates the most value. From this perspective, I believe Benesse's Board of Directors is a place where real dialogue takes place.
When we were formulating the medium-term management plan, our approach and review process was to make decisions based on the input from everyone on all of the elements. Points that I think need particular attention include the global strategy going forward and the Group's ability to advance that strategy as well as the status of both the corporate brand and the product and service brands.
Our focus in the area of ESG is on our human resources, which are critical to our business. To strengthen our human resources, we are enhancing the education and training programs, and we are using the Group's area of specialty in fostering a learning culture that encourages each person to build their skills in their daily activities to become the best version of themselves.
Expanding possibilities by incorporating an artistic sensibility
As someone from outside the company, one piece of advice I can give is that sometimes when major changes occur it's important to step back to take a wider view and look at the bigger picture. Be curious even about things that don't seem to have any connection to yourself, and ask "why is that?" Seek out new experiences, and try to unlearn things that you have learned previously. Sometimes you can find new solutions that you couldn't see before.
In that sense, I think the Group's active development of art-related activities has huge potential. I also think that management could be even more creative if, rather than following just the numbers and data, it could incorporate an element of artistic sensibility into its thinking.

Sustainable growth from a balance of strength and kindness
In the year since I was appointed director, I have seen how all of the Company's employees in their explanations and reports on various projects earnestly put into practice the corporate philosophy of "well-being." My impression is that at Benesse the philosophy is not just a slogan, it's deeply embedded into the daily activities of all employees.
Increasing interest in sustainability and social issues around the world is leading to a reconsideration of the idea of shareholder supremacy and new perspectives on the reasons companies exist and the value they create. In this way, it seems as if society is now catching up with the Group and its practice of "well-being."
Raymond Chandler's great fictional detective Philip Marlowe once said, "If I wasn't hard, I wouldn't be alive. If I couldn't ever be gentle, I wouldn't deserve to be alive." I believe that sentiment is reflected in the Group's management. Commanding market share and earning power allows the Company to survive fierce competition. Underlying that strength is the feeling of gently supporting each customer's growth and security. In my role as outside director, I will continue to support management efforts to achieve sustainable growth through a balance of strength and kindness.