Focus

Material to teach each child
English that is actually useful

Domestic Education - Shinkenzemi: Developing
learning material for English four skills

In April 2019, Benesse Corporation released learning materials for Shinkenzemi that help learners acquire the English four skills, with the goal of teaching children English they can actually use when they go out into the real world.
We listened to what three key Benesse personnel had to say about the characteristics of the learning materials and the ideas they put into developing them. First is Product & Service Development Department Director Sachiko Mitsuhashi who coordinated the overall project. Second is Learning Materials Development Department General Manager Nobue Tominaga who scrambled tirelessly to gain cooperation from various departments, and third is Manager Yuto Ono of the Information System Department who built systems to accommodate upscaling.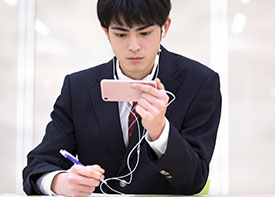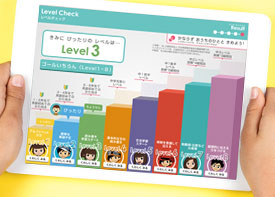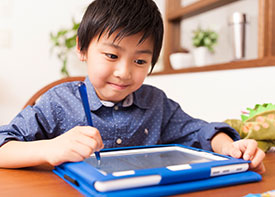 Interview 1
Developing learning materials that anticipate changes in English education
Sachiko MitsuhashiDirector, Product & Service Development Department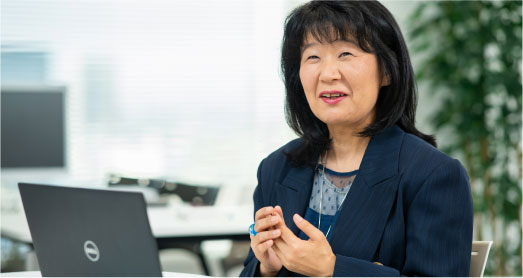 What was the background behind the release of English four skills learning materials?

Mitsuhashi: There are big changes currently taking place in the field of education, and children will need to be able to think and learn on their own in order to survive in an unpredictable future. One such change is in English language which requires a different learning outlook compared to what previous generations studied. Since those in previous generations did not have experiences of success on their own, they were unable to communicate any such successes to their children and they feel anxious about English. For this reason, people have placed a higher level of expectation on Shinkenzemi, which has blazed the trail in at-home learning.
The university entrance examination reforms in 2020 will evaluate students in the four skills of English (listening, reading, speaking, and writing), and indications are that certified examinations in the private field will be used. In response to this, in April 2019 we released English four skills learning material streamlined from elementary school through high school, which is certain to give students the skills they will need in society.
What are the particular characteristics and strengths of these four skills materials that only Benesse can deliver?

Mitsuhashi: English is a subject in which proficiency level is easily linked to experience studying at English conversation schools. For that reason, we decided to provide 12 different levels of materials according to proficiency level rather than divide them according to grade level in school. Doing so has enabled students to learn according to their individual skill levels.

Also, there are quite a few low-price online English conversation lesson options available in the market, but hardly any that are linked with digital technology to systematically improve the four skills. However, these materials enable learning that links the four skills together systematically and enhances these skills all at once, including communication skills (speaking, writing) through online lessons. That is the most defining characteristic of these learning materials.

Additionally, Shinkenzemi is a massive platform with total enrollment of 1.8 million students in elementary, junior high, and senior high school altogether (as of April 2019). Another strength is our ability to devise improvements to the materials while receiving reactions from large numbers of children at all times. Going forward, we will be team up with various other departments to add more polish to the materials so they can boost children's skills even more.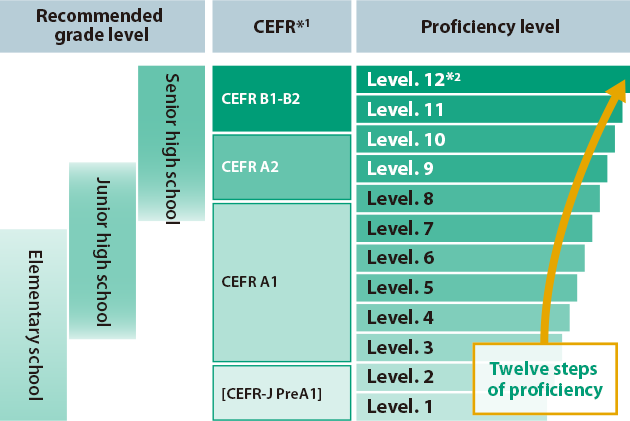 *1 European standards for measuring English language proficiency
*2 Level 12 is in development, to be ready in 2020
Including the four skills materials, what kind of presence do you think Shinkenzemi is going to be in the lives of children?

Until now, the focus has been on learning that leads towards finding the correct answer. However, the future will require the ability to inquire, think, and act on your own in a world where no correct answer exists. For that reason, self-study is essential. Benesse Corporation wants to be right there with children along the way and continue providing support.

Having made these four skills materials level-specific, we can now provide learning that lets students improve the way they want to and independently expand their skills. I think this embodies the Shinkenzemi ambition to educate independent learners.
Close
Interview 2
The goal is to acquire "useful English" through integrated four skills learning
Nobue TominagaGeneral Manager, Learning Materials Development Department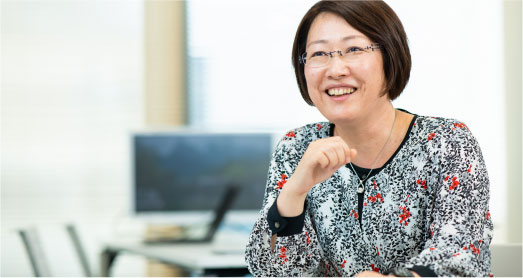 As a leader in the release of these four skills materials, what ideas did you aim to incorporate into the development?

Tominaga: Education is entering a period of transformation. Someone needs to be able to ascertain exactly what skills children will definitely need, and then help them improve those skills without fail. The Shinkenzemi English four skills learning materials that Benesse Corporation has created link online lessons with digital learning to effectively utilize what has been learned to produce output. Since it is a new learning format, some parents might not be able to picture what exactly is involved, and some children may also be hesitant.
I believe that my role is to understand those anxieties and provide learning that is fun and also produces evident effects. I felt that we needed to turn the desired educational ideals into learning that children want to engage in.
How have you felt about your efforts since the release of the four skills materials, and how has the reaction been?

Tominaga: Two months after release the usage rate at lower grade levels was high. More than 50% of first graders in elementary school in particular used the materials by tablet. On top of that, we also received positive comments such as "I'm thrilled that I can use with this material at no extra cost to the plan I'm enrolled in" and "It really seems like I'm going to be able to speak English." It made me confident that students even younger than we expected have high hopes in English.

We also saw that enrollees in junior and senior high school have strong test preparation needs. Tests and the entrance examination are processes through which the students do learn useful English, but from the perspective of the students these are important for gauging their advancement. We will work on improving our services with exercises for certification tests in mind.
How do you intend to improve these materials in the medium- to long-term?

Tominaga: We will implement learning through English conversation with AI. Some children want to boost their spoken English skills but find it difficult to engage in conversation with foreign instructors. In cases such as these, we could reduce their resistance to English conversation by having English-speaking AI characters that can present the right topics for the enrollee.

I would also like to create frameworks for measuring how much students were able to improve their English skills in tests (assessments) administered once per year. Through assessments, students can look back on areas they could not master and try learning them again. Utilizing the advantage Benesse Corporation has with streamlined offerings from learning materials through assessments we will facilitate the learning PDCA cycle for children.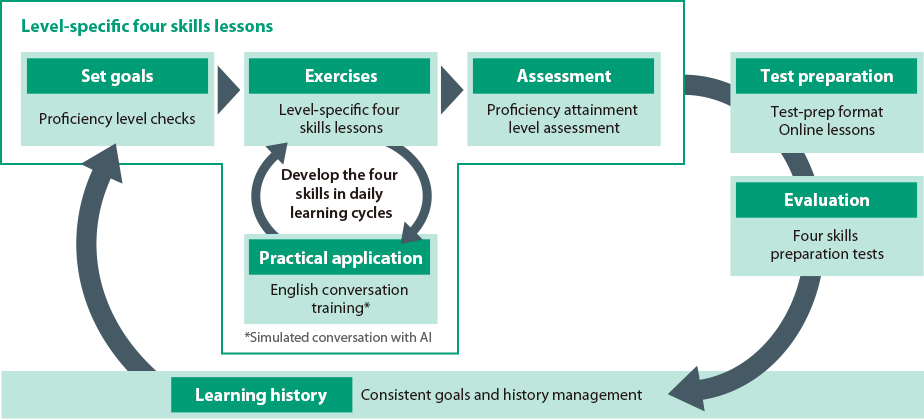 Close
Interview 3
Supporting the utilization of vast accumulated data and expertise with IT
Yuto OnoManager, Information System Department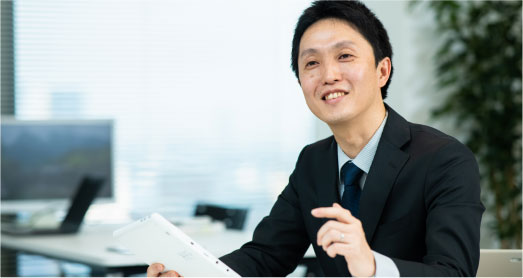 What are the challenges involved with the digital platform that supports development of the learning material?

Ono: I was involved with development of the four skills material as a member of the system development staff. In the past we had offered English four skills learning materials as an option, but when all enrollees began studying these materials the number of users increased tenfold. We had to withstand the traffic of at least one million users with a system that had previously been supporting tens of thousands.
When users increase, the types of terminals and environments they are using also become more and more varied. Our design needs to facilitate seamless usage by any type of user. We tested out various usage environments such as computers and tablets to ensure security and stability across multiple devices.
What do you currently see as challenges, and what is your future outlook?

Ono: Analysis and repeated use is a major theme in stably, sustainably developing the system. Only Benesse has data from over one million children studying the four skills of English. We will create systems that offer future possibilities for utilizing this data and improving its utilization.

We need to create the systems in concert with those responsible for the products, but that means the people of the product side also need to have familiarity with digital technology and knowledge about the systems. Conversely, we cannot develop the systems with technology alone. We have to understand the users and be able to talk about the background of the project to a degree that we can be on the same wavelength in conversations with people on the product side. Teambuilding and human resources development are essential aspects to providing quality digital learning materials.
As competition intensifies in digital services, what value is Benesse in particular able to offer?

Ono: Society is changing from one moment to the next. Rather than releasing something once and being done with it, we need to have the approach of consistently updating to new versions while listening to opinions and feedback from users. Shinkenzemi has upwards of 1.8 million enrollees. One major advantage we have is the ability to utilize the vast amount of data from these enrollees for making improvements.

Also, in addition to paper mediums for Shinkenzemi, Benesse Corporation also has physical settings such as cram schools. Rather than relying solely on digital mediums, I think we can generate added value with Benesse's physical settings, people, and other such resources by integrating them with digital technology.

If we can make these connections, we could have foreign instructors tell students who study four skills at home "You're really doing well lately!" when they have conversations at cram school. This is one example of how we can give students a higher level of independence. We can oversee children's learning in all facets. Utilizing the knowledge we have accumulated over time in the education business, I want to harness the capabilities of digital to provide precisely optimized value at the right time for our enrollees.
Close